When I say I have a new hobby my wonderful husband just laughs.... You see, I have many, many, MANY hobbies. So for me to say I have a new one... isn't really anything new!
But I think this one might just make that man of mine smile... as long as I stick to it. What is my new hobby you are wondering? Well... it is organizing...(shhh, don't tell anyone)
Organizing is not something I have EVER though I would enjoy doing, or be able to do for that matter. I love the look of organized spaces. I love organizing supplies. I went into one of those organizing super stores once... had to almost be dragged out I was so overwhelmed... And there in lies the problem.
I never know where to begin!
So, when I stumbled across this wonderful banner.....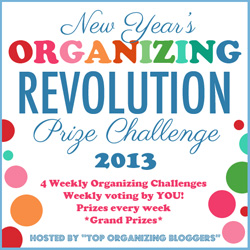 I thought..AHA! Here is where I start!! (go ahead and picture me doing a happy dance now)
Here it is... my first totally-ish organized space. It is calm, it is beautiful... and I am totally excited to do more!
I must mention.... The Man and I are starting to work out a financial plan. That is code for "no more spending". That means that whatever I organize wither has to be done for free or come out of the grocery budget... Which means it has to be done for free. The people around here get pretty cranky if I mess with their food...
The total office space. It is actually a corner of my living/dining room. I just updated the bulletin board that is hanging above the desk. The Man brought it home from work a couple years ago. Now it will be our planning

/dream board for our new financial journey :)
This is the left side of my desk. On the top is two of our new binders. I am not sure if I will use

separate

binders for meal planning and emergency preps or try to fit it in my Home Management binder. In the wicker organizer is extra printer paper, the current grocery ads and receipts, envelopes(that I use more for organizing than actually mailing anything), scissors, hole punch, extra printer ink, and all my pens. In the first cubby is my

label-er

, my pin cushion for the

bulletin

board, a crystal dish that was my grandmothers containing hand sanitizer,

chap stick

and a

sharpener

and the three whole punch. On the bottom are some clip art books, a zipper pouch with my permanent markers and a note pad.
Close up of the verse at the top of my plan/dream board.... seemed appropriate :)
My note card holder made from scrapbook paper. I stuck it up using some of the ticky-tack stuff. I

copied

the note cards out of my clip art books. We will use these to write our financial goals and other plans on. We can also use them for our blessings jar I will show in a moment.
The right side of the desk. The mail sorter has some pictures and the ticket for a spaghetti dinner at church that I don't want to lose, the envelopes for the UPC codes on the dog food(we buy 12 and get a free bag), and my action folders-To Do, To File, To Shred.. they still need labels. In the pretty box is all sorts of cords... most I have no idea but we can't lose them!... or so I'm told. The bottom is my financial planning books. The printer sits on a small filing cabinet the has all the homework supplies in it(pencils, sharpener, crayons...)
And finally our blessings jar. This is new for us this year. I saw the idea on Pinterest and had to join in! If you don't know, you write down all the good things that happens to your family during the year and place them in the jar. On New Years of the following year you sit down as a family and review all the blessings you have rec

ei

ved.
There is my beautiful "new" office space. I love it! It inspires me to continue and make the rest of my home this beautiful.
I hope you have enjoyed your visit. Please come back for the kitchen!!